Estate Cleanouts in Tampa, FL
Clean out services are simply not one-person jobs. So don't feel bad about asking for help when you need bereavement cleanouts. The crew at Lightning Bay Junk Removal will be happy to come to your aid.
FULL-SERVICE ESTATE CLEANOUTS
Throughout our lives, we gather all sorts of belongings. Trophies, furniture, clothing, and toys… these are just a few examples of the items that accumulate in our homes. However, one day, we'll have to leave this earth, and we can't bring our stuff with us. What this means is that when a loved one passes away, someone left behind has the responsibility of cleaning up the clutter. However, estate cleanouts can be overwhelming tasks, so if you need assistance, contact Lightning Bay Junk Removal to schedule an appointment.
We are the clean out professionals in the Tampa Bay Area, so you can rely on us to have the experience needed to complete a home clean out job. Additionally, we understand you're under a lot of stress during these hard times. We won't make these times any harder. We'll treat you with the courtesy you deserve, and we'll treat you with fair, affordable prices so you don't have to fork over all your cash. Let us treat you right!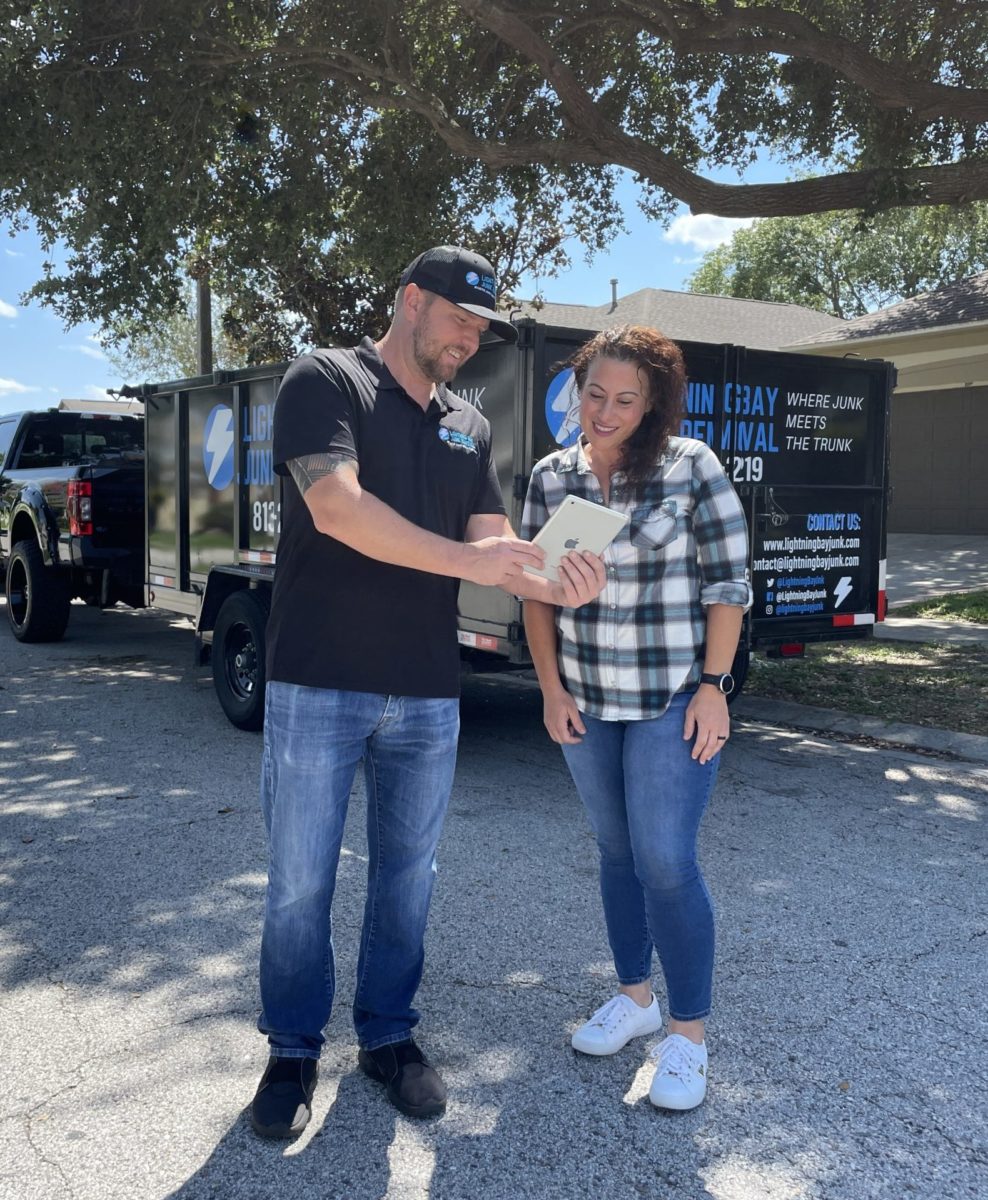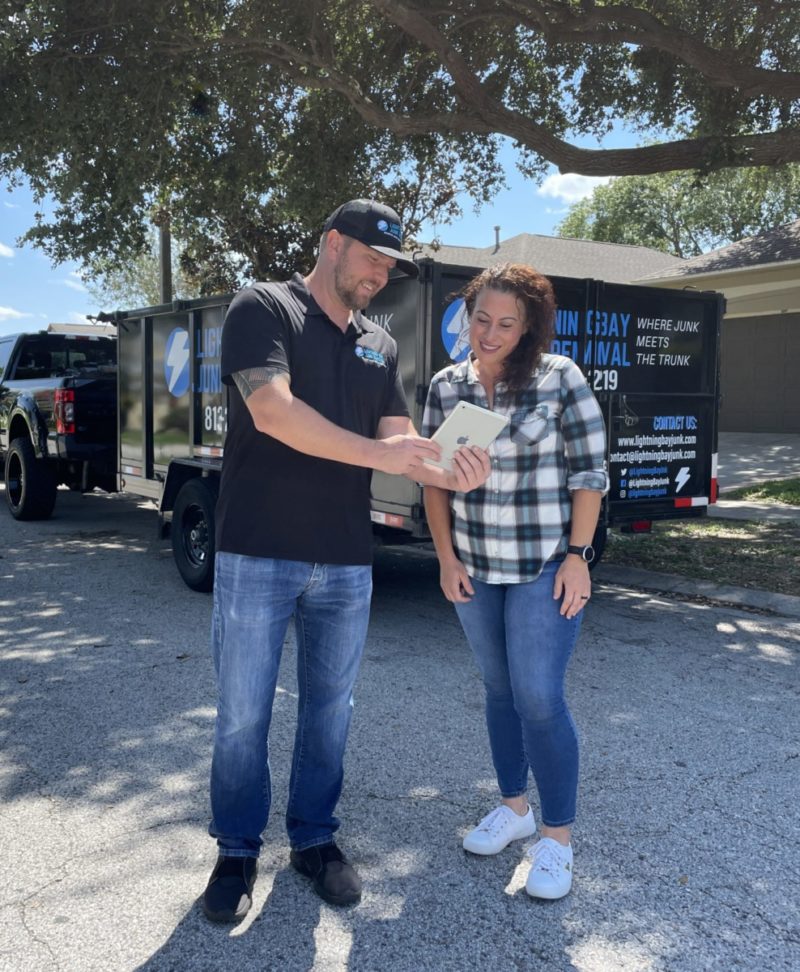 Why Our Estate Cleanouts?
Chances are, if you need to schedule an estate clean out, you are still in the process of grieving. What this means is that you don't need any rude, clumsy junk hauling crews pushing your buttons. You deserve courtesy and respect during these trying times, and that's exactly what Lightning Bay Junk Removal can provide to you. While we're used to being friendly during our junk removal services, if it's silence that you need, we can give it to you. In any case, know that we'll gently handle any junk items you want removed from the estate. We won't toss anything into our truck, either—instead, we'll set it down carefully. This is a difficult time for you. We don't want to make it any more chaotic than it needs to be.
Another point of contention after a loved one dies is all the costs involved with putting them to rest. Funerals aren't just sad—they're expensive, too. We don't want our bill to be the one that breaks the camel's back. Don't worry. We use fair, volume-based pricing so you pay a rate that matches the amount of junk we haul away. We never charge hidden fees, either.
How Estate Cleanouts Work
Your schedule is already busy, and you don't have extra time to afford a late arrival from us. That's why we are always on time. Expect our courtesy call when we're en route.
When we have arrived, please show us all the estate junk you'd like us to haul away, then approve our upfront service quote to get started.
Our junk hauling professionals do all the work so you don't have to. It won't take us but a short while to load our truck up.
Gently used items will get a second chance at a local thrift store, such as the Habitat ReStore. The rest is recycled and discarded.
Estate Furniture Removal
Some pieces of furniture, like Grandma's old rocking chair, might serve as great heirlooms. However, the old recliner with springs sticking out of it, the cat-scratched coffee table, and many other furniture items may need to get going instead. However, furniture is heavy, and sometimes, furniture removal simply isn't a great job for one person to handle alone. Instead, let an entire crew of furniture hauling experts help you instead. We are strong enough to lift your bulkiest furniture, and we have enough people to guide it all out the door without bumping or scratching the walls. Obviously, we don't want to cause any damage to the estate! However, know that we are fully insured and fully trained, so all risks are mitigated and any worst-case scenarios are covered, too. Getting rid of furniture doesn't have to be a headache with Lightning Bay Junk Removal!
About Us
What is Lightning Bay Junk Removal? We are more than a junk removal company. We are a locally owned and operated crew of friendly neighbors that want to keep our community clean and junk-free. This mission takes us to family homes, apartment complexes, restaurants, stores, and offices. We meet many interesting people and make a lot of friends. Most importantly, we make people like you happy. If you have junk, let us know. We can be there as soon as today or tomorrow to clean it up so you can be at ease.
What Our Customers Have to Say
Adam and Vanessa with Lightning Bay Junk Removal are professional, kind and punctual. Called for an estimate, Adam came out that day and they were able to start the work the next day. Adam and Vanessa are great communicators, professional and caring business owners. I cannot say enough positive things about their work!! They even raked and swept up after the job. Very reasonable and punctual also!rnNow we can enjoy our backyard without looking at a hazardous, old treehouse. Checkout the before and after for yourself!!!

Where do I begin??!! From the time I contacted Adam until the time he finished the job, he was professional, courteous and a great guy to do business with! I had to have one of those sofas that recline on both ends removed, along with a wicker dresser and two patio chairs. Adam's price was very reasonable. And what was even better was that he was able to come out the very next day to remove everything! Fast, efficient and a local business! You can't go wrong with Lightning Bay Junk Removal and Adam! I will be using him again in the near future to dispose of some electronics…..I'll be in touch Adam!! Thanks again for great service and I will be recommending you and your company to the folks in my neighborhood!

Adam was professional, courteous and just an all around great guy to work with. He lifted and hauled away things other companies would not due to the weight of the item. He is very reasonably priced and efficient. I would use his services again!! Adam I will call you again.

I'm 9 months pregnant with a lot of junk that needed to be removed from the yard. So I called the first place that google brought up for a quote. Very Reasonable price! Easy to arrange a good pick up time. Adam was kind & respectful! Very helpful too! Will definitely use again in the future!

Great company, very nice and super efficient. We had a big furniture item that needed to be cut up and removed in pieces. No problem for this crew. They were quick and made sure to leave the room exactly like they found it. Would highly recommend them.

From the moment I called they were alert and friendly. Kept really great communication the whole entire time and gave a true ETA of when they were going to show up. The professionalism was awesome and very affordable as well. Would recommend them to anyone and plan on using them in the future!!

Really excited that I found this company! Seen the advertisement while driving and decided to call. I got my spring cleaning started on the right note with help of Lightning Bay! Very friendly and personable. I recommend them for your waste remove all season long!

Adam and his wife were very polite, friendly and professional, working with me to meet agreeable terms, and doing an excellent job removing and cleaning up the areas of removal. Adam went above and beyond in helping finishing up a trimming job on his own initiative. I highly recommend their services.

Professional. Quick updates on time of arrival and pricernRemoved a 500lb piano with no issues. Extremely strongrnPleasant. Have used twice and am very happy with everything

We had old furniture, broke TVs , and miscellaneous junk from around the house that we needed gone. I called and they were quick to give me an estimate and scheduled an appointment. They arrived on time and were very professional.When I made the appointment I only had a few items but I contacted them the morning of our appointment to ask if it was ok if We needed more gone. They told me it would not be a problem and told me upfront that there would be a price difference. I recommend them to anyone who needs to have junk removed. They are friendly , efficient, and priced reasonably.