Junk Removal in Apollo Beach, FL
Lightning Bay Junk Removal
Because Lightning Bay Junk Removal offers quality services at the right prices, junk removal in Apollo Beach just became easy!
FULL-SERVICE JUNK REMOVAL IN APOLLO BEACH
Wouldn't you rather spend time at Apollo Beach's Nature Preserve, instead of spending the weekend cutting the clutter in your garage? No need to stress over renting a truck to haul away your junk, and then, to where?
Instead, choose the full-service junk removal company who takes care of all of the details! This is what Lightning Bay Junk Removal has to offer!
On your scheduled appointment day, you can expect a courtesy call proceeding our arrival.
Show us the junk that needs to be removed and we'll give you a quote for the job at hand.
If all looks good, then give us a thumbs up and we'll take care of the rest!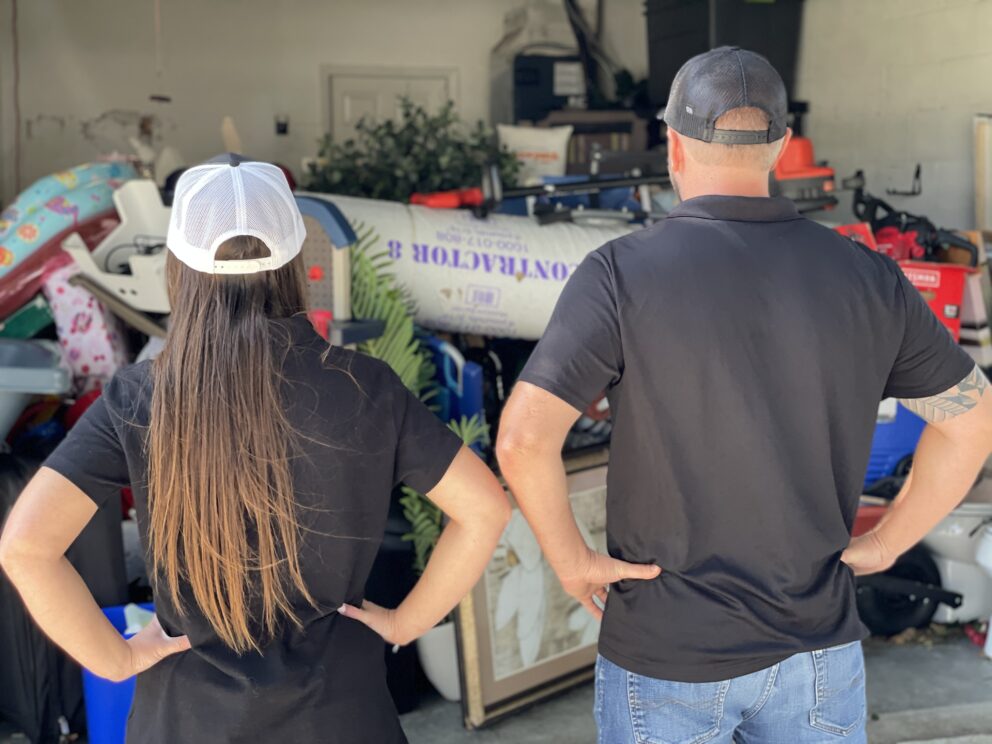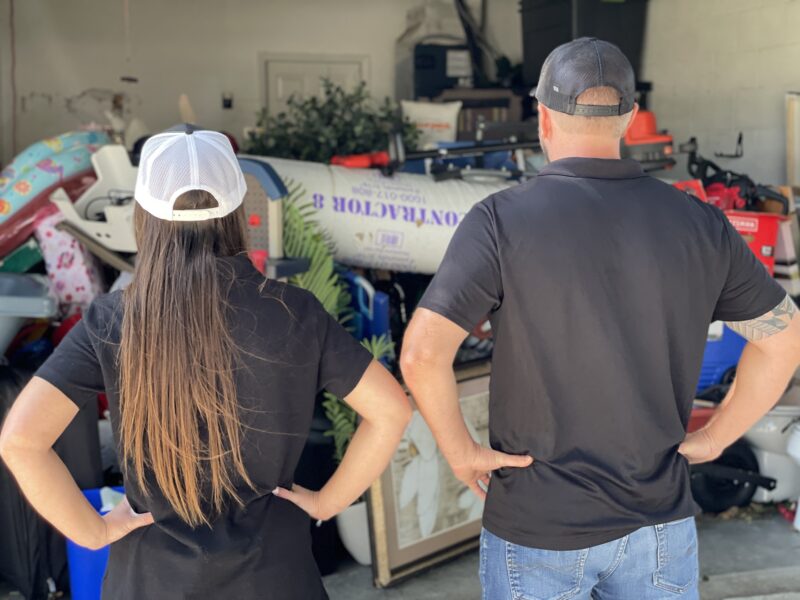 What is Apollo Beach Junk Removal?
Regardless of the junk you need removed, we're your go-to business. Check out our array of junk removal services.
Lightning Bay Junk Removal–Where Junk Meets The Trunk!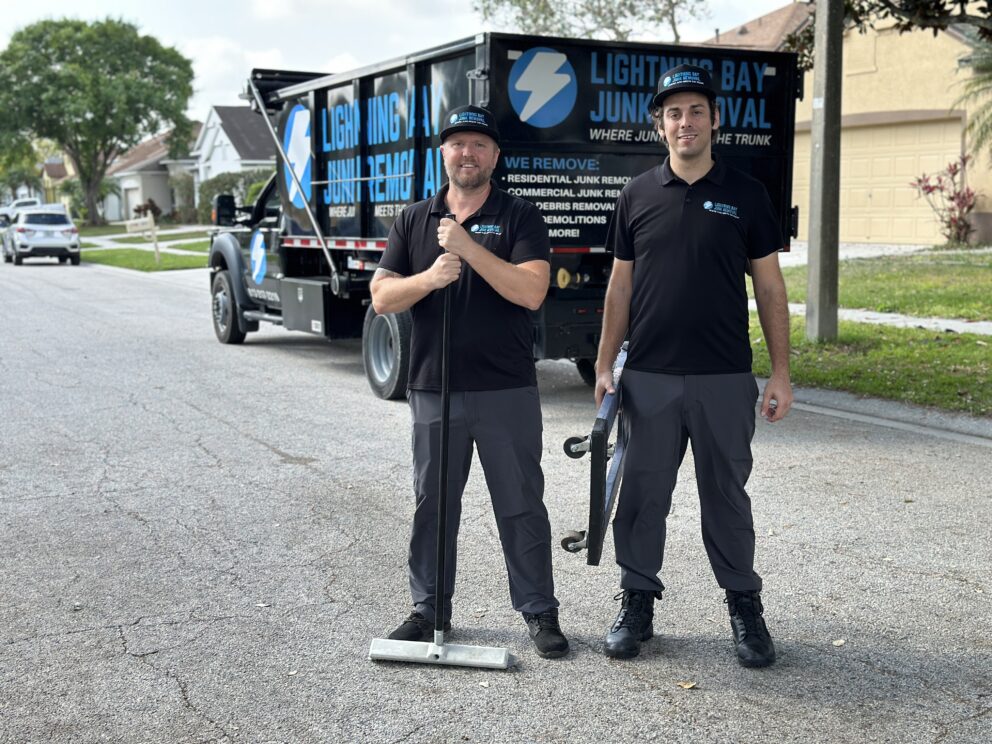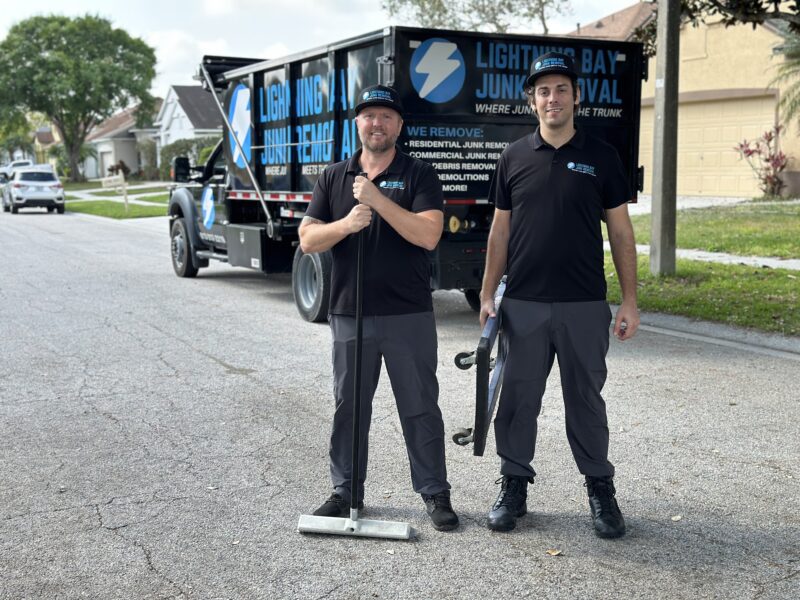 Transparent Pricing
When you go with Lightning Bay Junk Removal, you'll to get the premium junk removal services you need without having to break the bank.
Estimates. Call us, explain your junk removal project to us, and ask for a free cost estimate.
Quotes. Once we arrive and see the junk you need gone, we'll give you a no-obligation quote.
All-Inclusive. Our quotes are all-inclusive. Therefore, you'll have the rundown on all charges involved in our junk removal process on paper.
Ask us about our military and senior citizen discounts!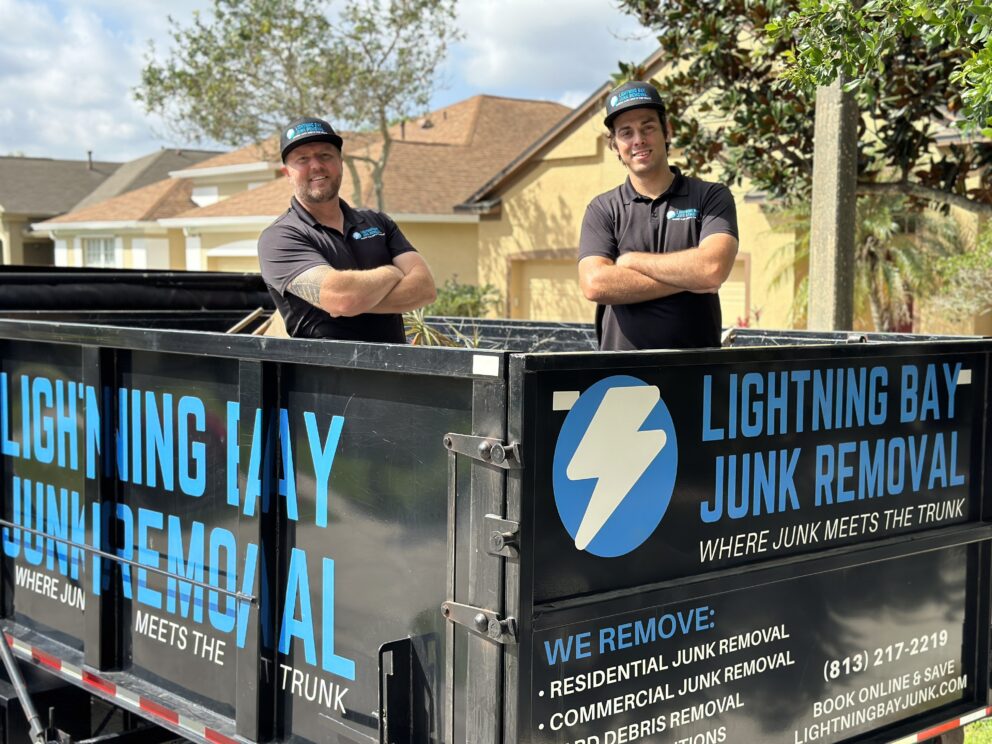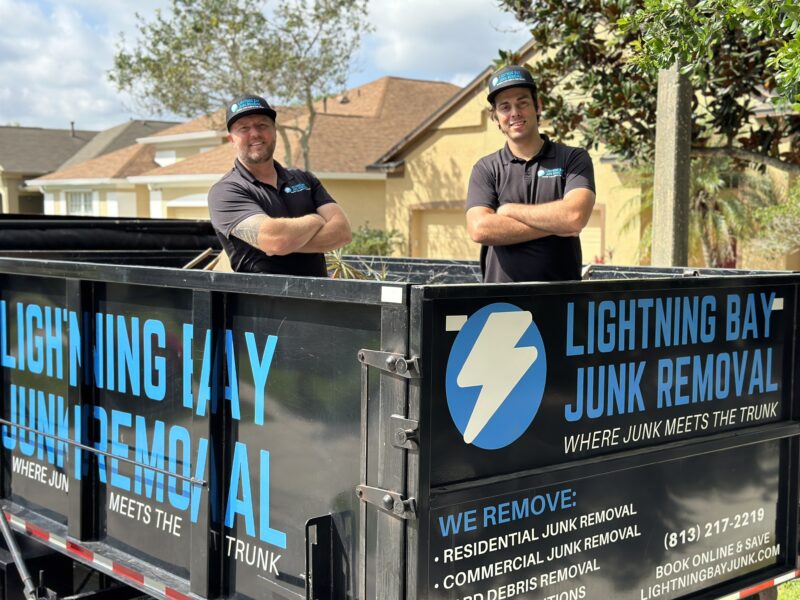 Scheduling is Simple
When you are ready to start your junk removal journey, then we have two easy ways to get started!
Book Online.

 You can schedule an appointment on our website when it is convenient for you!

Call 813-217-2219.

If you'd prefer to speak with one of our junk removal experts, then call us. We are open 7 days a week!
LIGHTNING BAY JUNK REMOVAL PUTS YOUR SAFETY FIRST
Junk removal in Apollo Beach just got a whole lot easier when you have Lightning Bay Junk Removal on your side! Here's what sets us apart from the big name franchises.
Locals. Because we're locals, we're invested in keeping our community clean and our environment green!
Insured. You won't ever have to risk liability because we're licensed and fully insured.
Easy Payments. For your convenience, we accept c

ash, checks, credit cards, Zelle, Venmo, Cash Apps and PayPal as forms of payment.
REVIEWS
Adam and Vanessa with Lightning Bay Junk Removal are professional, kind and punctual. Called for an estimate, Adam came out that day and they were able to start the work the next day. Adam and Vanessa are great communicators, professional and caring business owners. I cannot say enough positive things about their work!! They even raked and swept up after the job. Very reasonable and punctual also!
Now we can enjoy our backyard without looking at a hazardous, old treehouse. Checkout the before and after for yourself!!!

Where do I begin??!! From the time I contacted Adam until the time he finished the job, he was professional, courteous and a great guy to do business with! I had to have one of those sofas that recline on both ends removed, along with a wicker dresser and two patio chairs. Adam's price was very reasonable. And what was even better was that he was able to come out the very next day to remove everything! Fast, efficient and a local business! You can't go wrong with Lightning Bay Junk Removal and Adam! I will be using him again in the near future to dispose of some electronics…..I'll be in touch Adam!! Thanks again for great service and I will be recommending you and your company to the folks in my neighborhood!

Adam was professional, courteous and just an all around great guy to work with. He lifted and hauled away things other companies would not due to the weight of the item. He is very reasonably priced and efficient. I would use his services again!! Adam I will call you again.

I'm 9 months pregnant with a lot of junk that needed to be removed from the yard. So I called the first place that google brought up for a quote. Very Reasonable price! Easy to arrange a good pick up time. Adam was kind & respectful! Very helpful too! Will definitely use again in the future!

Great company, very nice and super efficient. We had a big furniture item that needed to be cut up and removed in pieces. No problem for this crew. They were quick and made sure to leave the room exactly like they found it. Would highly recommend them.

From the moment I called they were alert and friendly. Kept really great communication the whole entire time and gave a true ETA of when they were going to show up. The professionalism was awesome and very affordable as well. Would recommend them to anyone and plan on using them in the future!!

Really excited that I found this company! Seen the advertisement while driving and decided to call. I got my spring cleaning started on the right note with help of Lightning Bay! Very friendly and personable. I recommend them for your waste remove all season long!

Adam and his wife were very polite, friendly and professional, working with me to meet agreeable terms, and doing an excellent job removing and cleaning up the areas of removal. Adam went above and beyond in helping finishing up a trimming job on his own initiative. I highly recommend their services.

Professional. Quick updates on time of arrival and price
Removed a 500lb piano with no issues. Extremely strong
Pleasant. Have used twice and am very happy with everything

We had old furniture, broke TVs , and miscellaneous junk from around the house that we needed gone. I called and they were quick to give me an estimate and scheduled an appointment. They arrived on time and were very professional.When I made the appointment I only had a few items but I contacted them the morning of our appointment to ask if it was ok if We needed more gone. They told me it would not be a problem and told me upfront that there would be a price difference. I recommend them to anyone who needs to have junk removed. They are friendly , efficient, and priced reasonably.
What Are You Looking For?